Ingredients
500 g

chicken

chicken breast

2 cups cooked

egg noodles
Directions
Chicken Pasta with Cream & Cranberry Sauce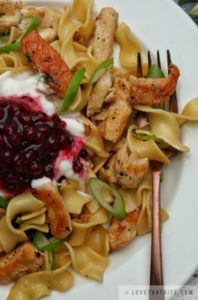 is a quick and comfort food for all the family member. Beautifully topped with cream and cranberry sauce bring them together for one meal that's cozy and satisfying. The best point is all getting cooked only 30 minutes in a single pan. I used egg noodles instead of pasta. But of course, it doesn't matter how you make this dish. Whether you use egg noodles, penne, spaghetti, fusilli, or any type of pasta, it will be just perfect together with the chicken and dinnertime is about to get even more excited that will leave everyone with happy stomachs.
(Visited 2,147 times, 1 visits today)
Steps
Preheat the vegetable oil in a large pan over medium-high heat.
Add the chicken and stir until fully cooked through for 3-5 minutes.