Ingredients
100 g peeled & deveined

shrimps

20 g chopped

sweet radish

50 g garlic

chives

extra more for garnish

50 g crushed roasted

peanut

extra more for garnish

sauce
Directions
Pad Thai (Thai stir-fry)
is a stir-fried rice noodles and commonly served as a street food in Thailand. It is made with soaked dried rice noodles, which are stir-fried with eggs, tofu, shrimps, Thai-sweet radish, garlic, shallots, and served with lime wedges, chopped roasted peanut, beansprouts, and garlic chives. The most important part of this recipe is the sauce. Pad Thai sauce is really simple to make, it only needs 3 main ingredients. The sweetness from palm sugar, the sourness from tamarind, and the saltiness from fish sauce. So, don't be tempted to buy an instant package of Pad Thai sauce, they never taste as good as fresh.
Note:
Make sure all the ingredients are ready to hit the pan. So, cut all the vegetables, chicken and tofu. Chop the garlic, shallots, sweet radish, peanut.
Many different brands of tamarind paste varies in acidity, so you may need to adjust this amount after making it the first time.
If you use fresh rice noodles, then you will need to use around 200-230 g of noodles and you don't need to soak them in the water.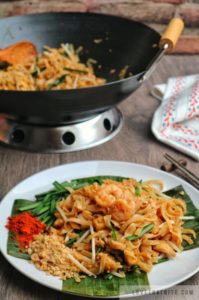 (Visited 1,527 times, 1 visits today)
Steps
sauce

Add the noodles and pour with sauce mixture. Mix all together and let the noodles absorb all the liquid.
NOTE: The noodles should be soft and chewy. Pull a strand out and taste, if the noodles are too hard (not cooked), add a little bit of water and cook for a couple minutes more.

Add beansprouts, garlic chives, and peanuts.
Turn off the heat and toss just to mix.