Ingredients
1 red

onion

peeled & cut into thick half moon slices

4

tomatoes

seeded & cut in wedges

1 Peruvian yellow chili

pepper

seeded & cut in thin slices

2 cups

cooked white rice

side dish
Directions
Lomo Saltado
is a popular and one of traditional Peruvian dish. A stir fry that combines marinated strips of sirloin with red onions, tomatoes, french fries, and aji amarillo (peruvian yellow chili pepper). These hearty dish used Chinese stir-fry tradition fused with Peruvian ingredients such as yellow chili pepper, cilantro and tomatoes. The combination of my favorite things – Latin and Chinese! This entree is always accompanied by white rice and perfect for a quick weekend dish.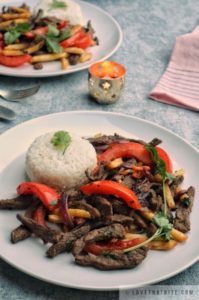 Note:
Make sure all the ingredients are ready to hit the pan.
Sirloin steak or other beef steak is best suited for stir frying in this recipe.
You can make your own french fries instead of using frozen ones.
(Visited 1,222 times, 1 visits today)