Ingredients
2 Tbsp chopped

parsley

for garnish

some slices young-mature gouda

cheese

filling

sauce

450 ml lukewarm

milk

do not use low-fat or nonfat

25 g young-mature gouda

cheese

crespelle

25 g melted

butter

unsalted
Directions
Crespelle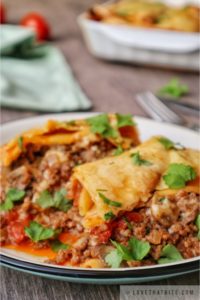 is an Italian version of crêpes wrapped around a tasty filling. Ground meat and mushrooms combined with a creamy white sauce "Béchamel" would be a perfect filling. The combination doesn't need a lot of additional spices besides salt, pepper, nutmeg and smoked paprika. In this recipe, I use young-mature gouda cheese to give some crunchiness on top of the crespelle.
This dish takes time to make and everyone knows that doing the dishes are the actual worst (require making the crespelle, filling, and sauce separately), but I promise the end results are well worth the effort.
Note: You can use any type of meat, cheese, tomatoes you like. Just if you use young type of cheese, it will come out with a melty and cheesy on top.
(Visited 2,439 times, 1 visits today)
Steps
Filling

Chop finely the onion. Dice the tomatoes and slice the cremini mushrooms; set aside.

Heat oil in heavy large pan over medium heat. Add and cook the ground meat for about 8-10 mins.
Add the chopped onion and sauté for 3 minutes.
Add the mushrooms and tomato paste. Cook until tender, stirring occasionally for about 5 minutes.

Reduce heat to medium. Add the diced tomatoes and cook until tomatoes are soft.
Season with salt, pepper, smoked paprika.

Béchamel Sauce

Melt butter in large saucepan over medium heat. Add flour and stir 3 minutes (do not brown).
Gradually whisk in the lukewarm milk.

Simmer until sauce slightly thickens, then add the cheese. Stir occasionally for about 5 minutes.
Season with salt, pepper and nutmeg. Cool to lukewarm, about 30 minutes.

Crespelle

In a large mixing bowl, add all the crespelle ingredients ( flour, eggs, milk, salt and melted butter). Mix all together until well-combined and there is no lump. Let the batter rest for 5 minutes.

Heat 20-24 cm diameter nonstick skillet over medium-high. Brush with some melted butter.
Pour a ladle of batter into skillet and swirl to coat bottom evenly. Cook until the top appears dry and loosening sides of the crepe. Turn and cook until brown spots appear on second side, about 30 seconds.

Turn crepe out onto plate. Repeat with remaining batter.