about me
My name is Stephanie and welcome to my blog!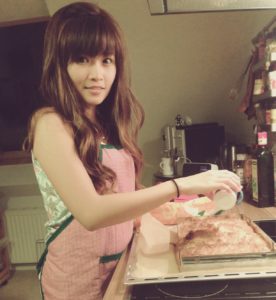 I love culinary and everything that has to do with it. When I was a kid I liked to help my mom and my grandma in the kitchen. They were the women who inspired me. I loved to see how they made many lovely ingredients became very delicious dishes. This is how my passion cooking was born and it is always growing over time. Since I met my husband years during the holiday season at the buffet table, we immediately connected for the love and creation of great international food. There are so many possibilities and so many different dishes and regions yet to be explored. I enjoy how writing about these international dishes makes you feel like you are tasting them for the first time. My passion for food comes through making every dish delicious, savory and absolutely satiable, satisfying your every craving.
As for baking…
I am always craving something sweet after a meal, so what I need to do is make my own dessert. The first time i came to Germany, my mother-in-law taught me how to make the best strawberry cake ever. It is also one of my husband's favorite cake. This is how I discovered that baking is something special to me. It makes me happy and it is a sort of magic.
I encapsulate every bite and every flavor sensation in my Blog. So glad that you have found my Blog "lovethatbite" and I hope my exploration of these tasty dishes will bring the love of something sweet closer to your own kitchen.
Hope you like this blog as much as I do!
(Visited 1,079 times, 1 visits today)