Ingredients
1 serrano

chilis

optional

garlic tomato sauce
Directions
Zucchini Noodle with Garlic Tomato Sauce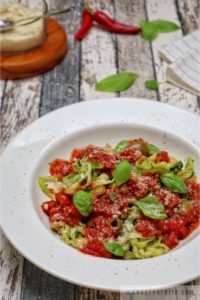 is a great recipe for someone who loves noodle or pasta with a low-carb version. It has strands of veggies without all the carbs from regular pasta and tastes delicious, that's why we are in love with this healthy easy recipe. There's fresh zucchini, basil, olive, cashew, lots of parmesan cheese and drizzle with garlic tomato sauce. The best part? It only takes 25 minutes to make.

Note:
If you don't have a vegetable spiralizer, then just cut lengthwise slices from zucchini using a vegetable peeler, and stop when the seeds are reached. Turn zucchini over and continue 'peeling' until all the zucchini is in long strips (discard seeds). Slice the zucchini into thinner strips resembling noodles.
Do not let the zucchini noodles cook any longer than 5 minutes or they will become mushy.
(Visited 683 times, 1 visits today)
Steps
10 mins

preparation

6 mins

garlic tomato sauce

- Heat a Tablespoon olive oil in a sauce pan over low-medium heat.
- Add the crushed garlic and sauté for a minute.
- Add the tomato paste, canned tomato, and balsamic vinegar.
- Let it cook for 5 minutes. Season the sauce with salt, pepper, and sugar.

(At this point you can turn off the heat, or just let it simmer on very low heat but stir occasionally to prevent burning while we are cooking the zucchini noodles)

5 mins

zucchini noodles

4 mins

serving