Ingredients
800 g

zucchini

2 big zucchini

3 Tbsp

parmiggiano reggiano

yogurt mixture
Directions
Zucchini Hash Browns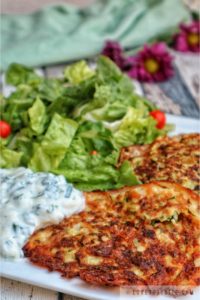 or known as Zucchini Puffer in Germany is perfect for breakfast, light lunch, dinner or any time in between! The crispy hash brown crust just takes it over the top. Zucchini is the only star in this recipe, so this is a perfect way to use up that extra zucchini from the garden! I love to eat this hash browns when I'm on diet, it tastes good and low calories.
Note:
The secret to getting these hash browns crunchy is making sure to squeeze as much water from the zucchini as you can. You can use a paper towel to remove the water.
Make sure your pan is nice and hot and you should be good to go.
You can keep the leftover in the fridge and you can also just serve these as a cold meal.
This recipe is incredibly simple and if you have too much zucchini and don't know what you have to do with them, you can try my other Zucchini recipe: Stuffed Zucchini or Pasta with ground meat, zucchini & tomatoes
If you make this or any of my recipes, I'd love to see them! Just take a photo and tag me @lovethatbite on Instagram
(Visited 5,862 times, 1 visits today)
Steps
5 mins

5 mins

20 mins

Heat a tablespoon oil in a wide frying pan over medium-high heat.
Once the oil nicely hot, add heaped tablespoonfuls of the potato mixture and flatten slightly using a slotted spatula.

Fry them until golden and crisp on both sides.
It takes around 3-4 minutes on each side. Drain on paper towel.
Repeat with the remaining zucchini mixture and allow to cool slightly.

2 mins

yogurt mixture