Ingredients
cake

chocolate cream filling

glaze

garnish
Directions
Vanilla Cake with Chocolate Cream & Berries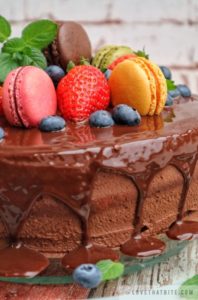 is an elegant and rich-tasting cake, and very simple to prepare. Last year I made the same type of cake for my  father-in-law, but i used chocolate cake instead of vanilla cake. Until yesterday, my husband convinced me that a vanilla cake with chocolate cream and berries on top was something I had to make. Alright, so I was making this three layer cake for Easter. We love so much this cake because it has different filling on each layer. A jam filling on the first layer and a mascarpone-chocolate cream filling on the second and the third. It's a truly decadent dessert worthy of any special day. One bite and you'll see why this gorgeous cake can win the first prize.
Note:
Refrigerating this cake will help them set quickly, but it will lose some of its shine. If there's time and you prefer a shiny cake, let the cake set at room temperature.
You can garnish the cake with any fruits you like. I also put some macarons on top to make it looks more pretty.
(Visited 1,556 times, 1 visits today)
Steps
Heat oven to 200°C, butter and line the base 24cm springform pan with paper parchment.

Add a pinch of salt into the egg whites and beat with an electric mixer on medium-high speed until soft peaks form. Gradually add half of the sugar and continue beating until the whites are stiff and glossy; Set aside.

Add a small amount of the whipped egg whites to the batter using a rubber spatula and fold them in gently.(Repeat this step until the egg whites are finished).

Immediately transfer the batter to the prepared pan.
Bake in the centre of the oven for 20-25 mins or until a skewer inserted into the middle of cake comes out clean.

After 10 mins remove the cake from the baking pan and let it cool completely on a wire rack.
Divide carefully the cake in 3 layers using floss or knife.

Spread any jam you like over the surface on one side of your first layer. Add the second cake over it; set aside while we are preparing the chocolate cream.

Chocolate Cream

Cut the dark chocolate into small pieces; set aside.
Add the heavy cream into saucepan and heat over medium, but do not boil.
Pour the hot heavy cream over the chocolate. Give a stir until all the chocolate melted and well-blended.
Let the chocolate cream cool in the room temperature and keep in the fridge for 30 mins.

In a large bowl, beat the cold mascarpone together with chocolate cream. Mix until evenly combined.

Glaze

Garnish