Directions
Stuffed Zucchini

You will love to make in this season!
An abundance of squash from the garden inspired me to make up this stuffed zucchini recipe a few weeks back when the heat wave hasn't hit Leipzig yet. It has tomato and meat base stuffed in the zucchini. They turn out wonderful, serve with a salad and some bread or rice and it is more than a meal!
Mmmm, sounds and looks good in a middle of July. Anyone in a mood for tasty zucchini boats? So, just give a try and let me know how you like it by commenting below.
This stuffed is so good as stated, but you can do any kind of grounded meat (lamb, turkey, beef. pork, etc)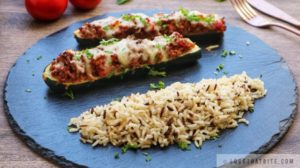 (Visited 641 times, 1 visits today)
Steps
Heat 2 tablespoon olive oil in a large skillet over medium-high heat.
Add the beef and cook until evenly browned.

Add the chopped onion and crushed garlic then sauté for 3-5 minutes.

Add a can of diced tomato, cayenne pepper, basil, rosemary, oregano

Season with salt, pepper
Stir and reduce the heat to low.