Ingredients
2

sirloin steak

each about 200-250g
Directions
Steak with Guinness Sauce
is an incredibly delicious Irish recipe for your Patrick's Day celebration.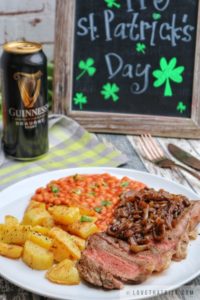 I have never been a huge fan of drinking Guinness,  but I am an admirer of how amazingly it can elevate sirloin steak. It always gives a subtle bitterness for gravy that I really love. I've served mine with fried potatoes and baked beans. Of course you can serve things like this with whatever you want.
I hope you like this recipe like I do and give this a try soon. Enjoy!
How to get the perfect steak :
First of all get your steak of out the fridge for 30 minutes, to give a chance the steak to cool down in room temperature and it's so much better that way.
It's important that the pan you use for frying the steak is a nice heavy bottom pan, that means the steak is gonna get really good heat of it and it isn't gonna cool the pan down.
(Visited 3,259 times, 1 visits today)
Steps
Peel, wash and cube the potatoes. In a medium pot, boil the potatoes in the water together with a teaspoon of salt for 10-15 mins. Drain the potatoes and let it cool slightly.

Fry the boiled potatoes with a drizzle oil in a frying pan for about 8-10 minutes until crispy and golden brown.
Season with salt and pepper; set aside.

Preheat the oven 90°C.
Peel and slice the onions into rings; set aside.
Drizzle the steak both sides with olive oil. Sprinkle with salt and mixed peppercorns.

Heat the pan until nice and hot then lay the steaks into the pan for 2-3 minutes each sides.
Remove the steak from the pan then place on a baking tray, and put it into the oven for 10 minutes.

Add the onion rings into the same pan (the one that we used before for frying the steak). Sauté for about 5 minutes until golden brown.
Pour the Guinness beer and the beef broth into the pan. Let it cook without lid on for about 8-10 minutes.

Meanwhile, you can heat the baked beans in a small saucepan.

Add a teaspoon of orange marmalade into the Guinness sauce for a final touch. Season with salt and mixed peppercorns as needed.