Ingredients
dressing

1,5 Tbsp white wine

vinegar

100 ml hot

vegetable broth
Directions
Simple German Potato Salad
or Kartoffelsalat is a dish made from boiled potatoes and other ingredients such as vinegar, mustard, vegetable broth, fresh parsley, scallions, and chives. This recipe, I often use as a side dish as it usually accompanies the German or Austrian main course like Wiener Schnitzel. You will find this type German potato salad in Southern area, unlike potato salad from northern Germany which is generally made with mayonnaise.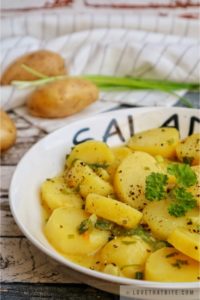 Note:
Use the right potatoes. To make this recipe, you will need firm type if potatoes. I use Anabelle potatoes because they keep their shape well after you boiled them. The closest you can get to those are Yukon Gold potatoes and those are the ones I recommend for this recipe if you cannot find Anabelle. Be sure to boil the potatoes in their skins for about 15-20 minutes, depend on the size of the potatoes.
The longer the potato salad sits, the better it will taste. It soaks all flavor from the liquid, so let it sit at room temperature for at least 30 minutes before serving.
If you make this Potato Salad together with Wiener Schnitzel or any of my recipes, I'd love to see them! Just take a photo and tag me @lovethatbite on Instagram
(Visited 2,597 times, 1 visits today)
Steps
| | |
| --- | --- |
| 20 mins | |
| 10 mins | |
| 5 mins | dressing |
| | |