Ingredients
muffins

1 tsp

lemon zest

about zest from 1/2 lemon

frosting

decoration
Directions
Sheep Cupcakes
are a perfect treat for spring or Easter gathering.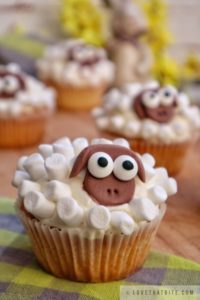 Easter is just around the corner,  so it's time to start creating fun, cute and tasty Easter treats. So here I am sharing with you Sheep cupcakes recipe that will delight all your guests!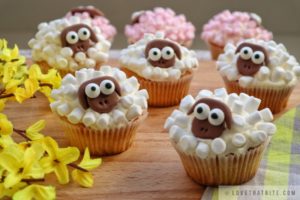 These cute sheep cupcakes have marshmallow fur, an easy to make fondant face, and the whole thing sits on top of a moist sponge base. Frosting, marshmallow and cake make for a perfect bite.
Note:
If you are not a fan of fondant, you can try using modeling chocolate for the faces.
(Visited 1,058 times, 1 visits today)
Steps
Preheat oven to 175°C. Line a 12 count muffin pan with 12 cupcake liners.

In a large bowl, beat the room temperature margarine, sugar, salt, vanilla extract with an electric mixer on medium-high speed for about 3-4 mins until creamy.
Add the egg one at a time and beat for 20 seconds after each addition.

Add the flour, baking powder, milk and lemon zest. Beat to incorporate on low speed.
Using a large ice cream scoop, scoop even amounts in your prepared pan.

Bake in the preheated oven 175°C for 20 minutes or until a toothpick inserted in center comes out clean.
Transfer the muffins onto a wire rack and cool to room temperature before frosting.

Frosting

In a medium bowl, whip the heavy cream together with 2 Tablespoon of powdered sugar on high speed until stiff.

In another bowl, beat the cream cheese with another 2 Tablespoon of powdered sugar.

Add the whipped cream into the cream cheese mixture, and mix them slowly using a spatula.
Once incorporated, transfer the frosting to a piping bag. Let the cream chill at least 15 minutes in the fridge.

Sheep's Face

For the assembly:
- Use cocoa powder to dye the fondant brown and roll it out to make a thin layer.
- Use an oval shaped cookie cutter to cut out the heads of the sheep or you can modify it with a small knife.
- Use a small paint brush to gently brush a small amount of water onto the fondant where you want the eyes to be.