Ingredients
150 g organic tricolor

quinoa

150 g ripe

tomatoes

various colours
Directions
Quinoa with Tofu and Vegetables
is a delicious and very healthy vegetarian meal.
 Quinoa is not only high in protein, calcium, iron, and fiber, but it's also gluten-free. This meal also packed with colorful veggies! It has a subtle flavor with a fluffy, creamy and slightly crunchy texture. This is one of our staple recipes that we eat often.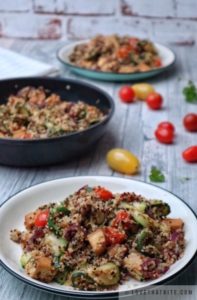 Note:
Substitute quinoa with rice or couscous if you do not have quinoa on hand.

Anything you like in a stir fry would be good in here.
(Visited 1,509 times, 1 visits today)