Ingredients
2 Tbsp

sugar

add more if desired
Directions
Pumpkin Spice Latte
is the most drink I love to enjoy so much when the Fall moment hits. Many people rush to the local coffee shop and order a pumpkin spice latte, but today I will share how to make at home a frothy pumpkin spice latte with 3 beautiful layers. It's so easy to make and doesn't require a complicated tool. I'm sure you have most of the tool and ingredients, so you can just make it right away.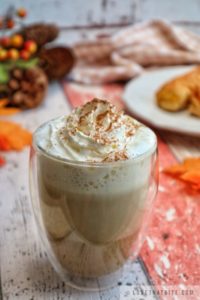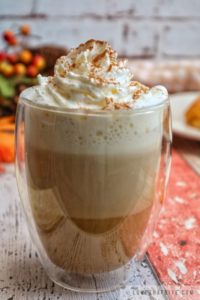 This recipe multiplies very well, so if you are having friends over, just make up a big pot and serve it hot with whipped cream on top. This latte is so delightful and satisfying.
Note:
If you cannot find the pumpkin pie spice, you can just mix all together: 4 teaspoons of ground cinnamon, 1/2 teaspoon of ground ginger and cloves, then 1/4 teaspoon of nutmeg. Store in a labeled airtight container for up to 6 months.
You can use Homemade Pumpkin Puree or from the canned, to make work easier.
In this recipe, I used a french press coffee, but feel free to make the brewed coffee in your own way. There are a million ways to make a coffee such as a drip brewed coffee, filtered coffee, pour-over coffee, immersion brewed coffee and so on.
(Visited 565 times, 1 visits today)
Steps
5 mins

french press coffee

a. Boil the water, then cool for 1 full minute. (Water for French press coffee should be heated to 90°C).

b. Tip your coffee into the press.

c. Pour the water into the press, just until enough to soak the ground coffee. Let steep for 30 seconds.

d. Pour the rest of the water in, and give a little stir.

e. Let steep for another 3.5 minutes to produce a robust brew.

f. When the timer goes off, immediately press slowly the plunger all the way to the bottom.