Ingredients
1 Tbsp

brown sugar

optional

serve with
Directions
Pumpkin French Toast
has always been my and my Hubby's favorite breakfast in fall season and we just can't get enough of them. It is definitely a great thing to make, when I have so much leftover from the Homemade Pumpkin Puree. What the sweeter thing I can do for somebody special than make a delicious breakfast? Yes, our fall mornings just got amazing and tastier because of these fluffy warm toast with perfectly golden edges!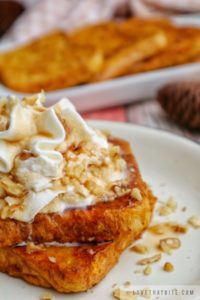 As you can see, these beautiful stacks get soaked in an egg mixture, and spices, then fried to perfection. Drizzle with maple syrup and topped with a swirl of whipped cream then sprinkle with some chopped walnuts. It's easy to make and can be doubled to serve a crowd, I'm so happy how it turned out.
Make sure you give a try and surely you'll be in comfort food heaven. If you make this recipe, I would love to see how scrumptious your irresistible pumpkin French Toast turn out, so don't forget to post some pictures on  Instagram and tag me @lovethatbite and I'll find it to let you know I'm craving a bite.
Note:
If you cannot find the pumpkin pie spice, you can just mix all together and store in a labeled airtight container for up to 6 months:
4 teaspoons of ground cinnamon
1/2 teaspoon of ground ginger
1/2 teaspoon of ground cloves
1/4 teaspoon of nutmeg
(Visited 617 times, 1 visits today)