Ingredients
2 Tbsp melted

butter

unsalted butter
Directions
Mini Pancake Skewers
have an eye-catching look with all those fruit slices and no doubt, they will get everyone's attention! In this recipe, I use strawberry and banana, but feel free to use any fruits combinations you like. With a good spread of Nutella or maple syrup as a topping, will make these pancakes even more delicious.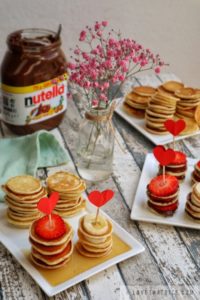 This recipe is fun to do with your kids and also they can be made in advance, so you don't have to bother making them while your family or friends around.
Note:
This recipe can make up to 80 mini pancakes.
(Visited 1,321 times, 1 visits today)