Ingredients
cake

350 g

margarine

room temperature

some drops of

lemon flavoring essence

filling

375 ml

passion fruit juice

frosting

some drops of

food coloring

glaze

200 ml

passion fruit juice

decoration
Directions
Lemon Passion Fruit Cake
is a beautiful layer cake and decorated with fresh persimmons, physalis, homemade Lemon Macarons, and Meringue Kisses. The taste just amazing and it was probably the best cake I have ever made. The lemon cake with passion fruit curd combination naturally creates a fresh, sweet-tangy flavor and also the ombré cream cheese frosting technique gave a vibrant color.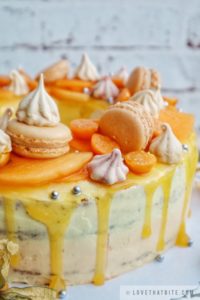 I made this cake two weeks ago for my Mother-in-Law's birthday party. Thought it would be nice to do a cake for her, which is basically I just used a round cake pan and make a hole in the middle. This idea popped up because I want to show how these layers look like. As a gift, so I would be unable to show how beautiful the layers are if I didn't take the middle out.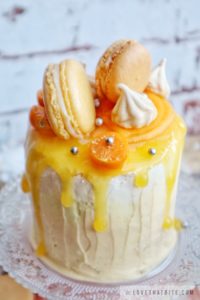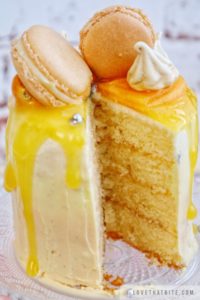 So here it is, the mini version of lemon passion fruit cake. I know, it was taking an extra time to decorate this one, but as you can see isn't it so adorable? at least I can try before I gave to her 🙂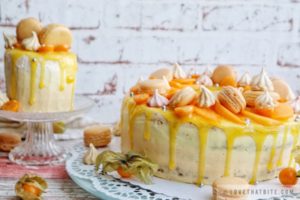 Make sure you give a try and have a lovely bite to get all those tropical flavors. The cake is so tasty and the wreath is an age-old symbol, & has come to represent protection and unity. Through this cake, you can express unity with those you love during a special occasion.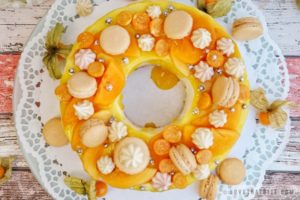 Note:
The cake can be made a day before, wrapped in plastic wrap and keep in the fridge until ready to use. It is probably easier to divide while chilled.
You can use a tube pan with 26 cm diameter for baking the cake. If you don't have one, you can use a normal round cake pan and make a hole in the middle of the cake I used a ramekin for tracing, or you can also use a 3 – 4 inch round cookie cutter or a cut circular piece of parchment paper.
You can decorate as you please. Get crazy! Get festive! And most importantly, get hungry.
(Visited 8,444 times, 1 visits today)
Steps
lemon cake

Preheat the oven to175°C. Grease two 24 cm (base measurement) round cake tins or line with parchment paper.

Using an electric mixer to beat the margarine (softened), sugar, a pinch of salt, and vanilla until pale and creamy.
Add the eggs one at a time, beating well after each addition.
Add the zest from 2 organic lemons.
Add the flour and baking powder. Mix until well combined.
Gently pour the juice of 2 organic lemons and some drops of lemon flavoring essence into the batter and give a final mix.

Divide mixture between the prepared tins and smooth the surface.
Bake for40-45 mins or until a toothpick inserted in the center comes out clean.
Turn the cakes onto a wire rack to cool completely.

filling

In a saucepan, whisk to combine: sugar, cornstarch, and a little bit of passion fruit juice.
once there are no lumps, add the egg yolks and whisk them well.
Stir gently and pour the rest of the passion fruit juice into a saucepan and bring to a simmer.
This may take around 10 minutes. The mixture should thicken as it heats.

Once the filling gets thick, directly remove from the stove. Cover with plastic wrap directly on the surface of the curd and let it cool at least an hour at room temperature.

frosting

Using an electric mixer on low speed, beat together cream cheese, powdered sugar, vanilla extract until smooth.
Once incorporated, turn the mixer up to medium-high and continue beating for 5 mins.
It should be light and fluffy.
Separate the frosting evenly into three clean bowls and color each a darker shade than the last.

assemble the cake

1. Cut carefully each cake in half horizontally using floss or serrated knife.

2. Cut a circle in the center of four of the cakes using a ramekin for tracing with a sharp knife. Just make sure those four cakes have the same size hole.

3. Place one cake base on a plate. Spread 1/3 of the filling over the surface on one side of your first layer. Top the filling with the second layer of cake, then repeat layering with cake and filling. Top the cake with another cake layer.

4. Pile the light color on top of the cake and use a palette knife to ease it over the edges, covering the top and the hole side of the cake.

5. Add your two remaining colors in the same way or with help from piping bags, then use a straight edge scraper to blend the frosting on the sides of your cake for the perfect ombré finish.

6. Let cake stands until set for at least an hour in the refrigerator.

glaze

In a saucepan, whisk together sugar, cornstarch, and a little bit of passion fruit juice until there are no lumps.
Stir gently and pour the rest of the passion fruit juice into a saucepan and bring to a simmer.
Once the glaze gets thick, directly remove from the stove. Cover with plastic wrap on the surface to prevent a skin forming. Let it cool at least an hour at room temperature.

10 mins

Decor