Ingredients
meatball mixture

stuffed tofu & fried wonton

150 ml

vegetable oil

for deep frying

soup

3 cloves

garlic

lightly smashed

750 g

beef bones

preferably from the shank and with the marrow intact

for serving
Directions
Indonesian Meatball Soup
or Bakso is one of the most popular food in Indonesia. You can find this dish everywhere in Indonesia (local restaurants, street vendors, and even in five stars hotels). I love bakso so much, and this is one the most dish that I really love from my origin country. The previous American President Obama loves bakso as well.
There are many varieties of bakso, and different ways to prepare it but commonly made from finely ground beef with a small quantity of tapioca starch, egg, salt, pepper. However bakso can also be made from other ingredients, such as chicken, pork, fish or shrimp.
Nowdays, various types of ready to cook bakso are available as frozen food and usually, you can find it in supermarkets. This time, I'll show you how to make this comfort dish "Bakso" with an authentic taste of Indonesia.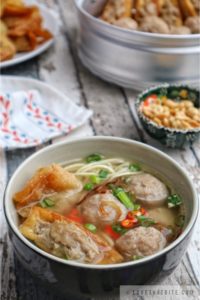 (Visited 6,069 times, 1 visits today)
Steps
meatball

Grind together ground beef, egg, salt, pepper, garlic, fried shallot, tapioca starch, ice cubes in a food processor until smooth.

Take about a tablespoon of the mixture and shape into a ball. Repeat until half of the mixture shape into meatballs. Reserve the other half mixture for stuffed tofu and fried wonton.

(You can make the meatballs in a traditional way: Scoop a small amount of the meatball mixture in your hand, clench your fist and push the mixture between the "hole" made by your thumb and forefinger; dip your hand regularly in a bowl of cold water to keep the balls from sticking.)

Boil 2,5-liter water in a large pot and add the meatballs. They will sink to the bottom, and once cooked the balls should float to the surface when they are done. Remove cooked meatballs from the pot and set aside.

soup

steamed stuffed tofu

With a sharp knife, cut a slit into one side of a tofu (triangle shape); scoop out the center of the tofu, leaving the walls of the triangle. Use a teaspoon to fill each tofu generously with the reserve meatball mixture, letting stuffing mound out of the tofu piece.

Place a steamer rack in the bottom of your wok. Fill the wok up with water, and place the plate on the rack. Bring the water to a simmer and steam the plate of tofu for about 5-8 minutes. You can also use a metal steamer if you have one.

fried wontons

Lay a piece of the wonton wrapper on your palm and add 1 teaspoon of the reserve meatball mixture in the middle of the wrapper. Dip your index finger into the sealing water and trace it on the outer edges of the wonton wrapper.

Heat up some oil for deep-frying. Deep fry the wontons until golden brown and set aside.