Ingredients
pizza dough

topping
Directions
Homemade Mushroom Tomato Pizza
tastes incredibly delicious and has a crispy crust.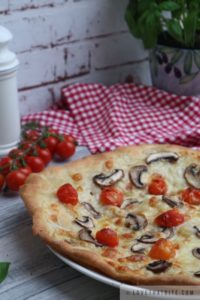 Who doesn't love pizza? I don't know a single person who doesn't. Making pizza is something that mostly people thinks it's difficult to make. After a couple times I made homemade pizza,  I truly think that everybody can make a pizza, its so easy and it is not complicated at all. If you try making it once and I bet you will do it all the time. Trust me, when I tell you that this is better than the takeout pizza 😉 
Note:
You can always make just one pizza and freeze the other dough ball.
(Visited 569 times, 1 visits today)
Steps
Sprinkle a baking tray with breadcrumbs.
Divide the dough in two pieces and roll into a ball.

Place the pizza dough into a baking tray, sprinkle with some flour on top, then cover with a slightly damp cloth and leave to rise for at least 2 hours in a warm place.

Garlic oil - topping

Preheat the oven to 225°C and place a pizza stone in the oven and preheat it for 15 minutes. (if you don't have a pizza stone you can use a large baking sheet).

Sprinkle some flour onto your counter, take a ball of dough and dredge it in the flour on all sides.
Using your hands or a rolling pin, roll the dough out around 20 cm diameter.