Ingredients
4 cups steamed

white rice

2 Tbsp chopped

parsley

garnish

meatballs

curry sauce
Directions
Danish Meatballs in Curry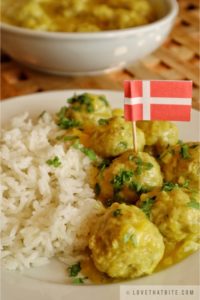 When you think of Scandinavian dishes what comes into your mind? Having a hearty and comfort food on your dinner table. Boller i Karry which directly translated into English would be "Meatballs in Curry" is a traditional Danish main course. It has been served for generations of Danes long time ago. It has a delightful curry flavor and a little sweet from the apple´s chunks. I got the recipe yesterday from a local neighbour in Denmark. This recipe is very simple to make and absolutely delicious, so make sure you also give a try and let me know how it come out.
Note:
Curry powder has different taste every brand, so I suggest you to add a teaspoon first and if you like strong curry taste, add another teaspoon or even more.
In the first step, you can form all the meatballs and put on a plate, while you wait for the stock to boil (so all meatballs can be placed in the stock at the same time).
You can use water instead of stock.
(Visited 11,209 times, 1 visits today)
Steps
meatballs

Mix the meats together with salt, pepper, grated onion, egg, flour. Gradually pour the milk in and mix until well-combined.

Dip a table spoon in the water and take a spoonful of meatball mixture and form into a ball.
Add the balls into boiling stock.

Boil the meatball for about 10 minutes, then drain the meatballs and set aside.
(save 500 ml of the stock to make curry sauce)

curry sauce

In a large sided pan, melt the butter on high heat.
Add the chopped onion and apple. Reduce the heat to medium and saute for 3 minutes.
Add the curry powder and flour. Stir for about 1-2 minutes.

Gradually stir in the beef stock to the pan, and let it simmer on low heat for 10 minutes.
Season with salt and pepper, if desired.