Ingredients
meatballs

brown gravy

some drops of

gravy coloring

brun kulør
Directions
Danish Meatballs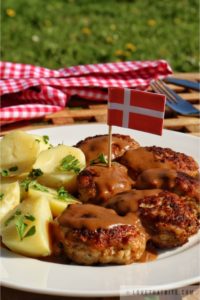 or known as Frikadeller is one of the most popular dish in Denmark. There are many recipe of Frikadeller you may find in internet, considering this dish inherited from generation to generation. Luckily, I got this recipe also straight from a Danish neighbor that I met in summer holiday. I love to enjoy this meatballs with some boiled potatoes and brown gravy.
Note:
Adjust the milk when you make the meatball mixture. It should be very moist, but not dripping.
Chill the meatball mixture for 15-30 minutes in the refrigerator, to make the meatballs easier to form (but I did'nt do it)
Dip the spoon in water before you form a meatball (this will make the meatball easier to form because the meat won't stick to the spoon).
(Visited 12,455 times, 4 visits today)
Steps
15 mins

Meatball-mixture

45 mins

Meatballs

Melt the butter in large skillet on medium-high heat.
Scoop up the meat mixture with a tablespoon, and form into oval meatball about the size of a small egg.

Place the meatballs into skillet. Fry them on medium heat until nicely browned and cooked through for about 5 minutes on each side. Set aside on a plate until you have finished the whole batch.

15 mins

brown gravy

Melt 2 Tbsp butter in a saucepan.
Add the sliced onion and sugar. Saute for about 3-5 minutes until the sugar caramelized.

Add flour to form a roux.
Pour the beef stock and heavy cream into the saucepan; slowly stirring constantly until until desired consistency is reached.

Add a few drops of gravy coloring (you can skip, if you don't have it)
Season with some salt and pepper.