Ingredients
4 Tbsp granulated

sugar

for the crust
Directions
Crème Brûlée
is a classic French dessert with four simple ingredients – cream, vanilla, sugar and egg yolks. It has a rich and creamy custard base topped with a texturally contrasting layer of hardened caramelized sugar. The custard base is traditionally flavored with vanilla but you can make an experiment with other flavorings. This is a very elegant dessert to serve in individual ramekins. The fun part is when you crack the hard caramel topping and it's breaking through to the firm custard.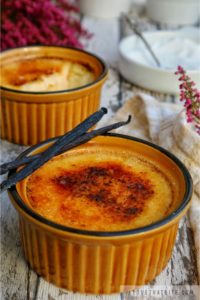 Note:
Make sure to let the custard set for several hours in the refrigerator before brûléeing the top, otherwise you'll end up with soupy custard.
If you don't have a blowtorch,  place the custards under a hot grill or oven's broiler, keeping an eye on them to ensure the sugar doesn't burn.
If you make this classic Crème brûlée or any of my recipes, I'd love to see them! Just take a photo and tag me @lovethatbite on Instagram
(Visited 1,412 times, 1 visits today)
Steps
| | |
| --- | --- |
| 3 mins | |
| 7 mins | |
| 5 mins | |
| 35 mins | |
| 5 mins | |