Ingredients
120 g whole grain

couscous

2 Tbsp extra virgin

olive oil
Directions
Couscous Shrimp Salad
is one of my favorite meal! This salad made with easy to prepare couscous and crunchy veggies with a hit of shrimps! All tossed in a fresh Vinaigrette and some herbs for extra flavour.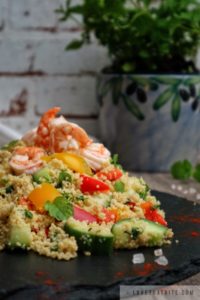 Is this a salad or side dish? Sort of both! Some people served it as a side dish, but I eat it as a main course. It's room temperature when you make it, bur leftovers can be eaten cold. It is good warm and cold. So, no problem when you have leftover and just keep it in the fridge.
(Visited 1,086 times, 1 visits today)
Steps
10 mins

Cut the organic lemon in half.
Add the juice of half lemon into the shrimps, then season with salt and pepper; set aside.

In a large bowl, make the vinaigrette by adding the zest and the juice of other half lemon.
Add the extra virgin olive oil.
Season with ground ginger, cumin, coriander, cayenne pepper, salt and pepper.

Chop all the vegetables (bell peppers, cucumber, mint leaves)
Add all the veggies to the vinaigrette and mix it well.
Remove the lid from the pan with the couscous and using a fork, fluff it up and add it to the bowl with the veggies.
Toss the whole thing together and cover the bowl with a plastic wrap.