Ingredients
1 Tbsp

onion

finely chopped

1 clove small

garlic

crushed

2-3 Tbsp extra virgin

olive oil
Directions
Classic Bruschetta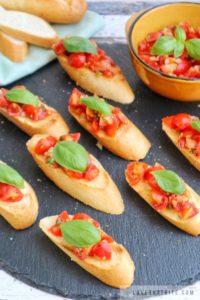 I used fresh ripened cherry tomatoes on this recipe, but I do love to use any garden-fresh tomatoes when they are at their peak from the garden. Since every summer I got organic ripe tomatoes from my Mother-in-law, I just love turned these jewels into a delicious antipasto. The juicier your tomatoes, the better your bruschetta will be.
These Bruschetta are perfect for a party. You can make a large batch of the topping ahead of time, as well as toasting baguette slices.
Note:
If you don't have a grill pan, you can use a normal pan or toast the bread in the preheated oven 200°C for about 10 minutes.
I love the grilled breads get rubbed with garlic before they topped with simply marinated tomatoes.
(Visited 600 times, 1 visits today)