Directions
Classic Baked Sea Bream
is a hassle-free and quick recipe. A sophisticated meal for two, this classic baked sea bream (here in Germany, people call it "Dorade") is exactly what you need to lift you out of that busy weekdays. Especially, today is Good Friday which many Christian people traditionally do not consume meat and alcohol. So, a classic fish dish is the best choice to enjoy this season. It doesn't take long and always comes out incredibly delicious.
In more of a fish mood? Try this flavorful Baked Sea Bream with Tomato Basil Sauce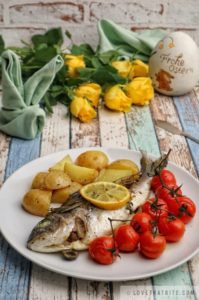 (Visited 1,485 times, 1 visits today)
Steps
Preheat the oven to 200°C. Cook the potatoes over a high heat in a medium pot for around 10-15 minutes, or until parboiled. Drain and cube the potatoes, then set aside.
Ensure the fish are clean inside and out, pat dry with kitchen paper.
Place the fish into baking dish.