Ingredients
75 g unsalted cold

butter

cut in chunks

lemon glaze
Directions
Blueberry Scones
are easy to make and have a very enticing presentation. They're very light, not too sweet. If you are searching a great blueberry scones recipe, then you are in the right place. Here, I'm sharing a fluffy blueberry scones which are better than a bakery, trust me. Every bite is packed with juicy blueberries and sweet lemon glaze. Tender inside and crunchy on the outside. The last thing you need is just a nice hot cup of tea. What perfect way to spend the afternoon!
Note :
Don't mixing, kneading too much, when you are working with the dough, because it will produce dry and tough scones.
Scones are best enjoyed right away, though leftover scones keep well at room temperature for 3 extra days.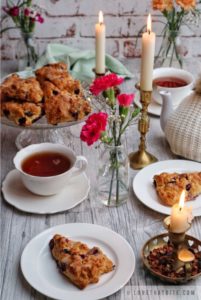 (Visited 627 times, 1 visits today)