Ingredients
3 Tbsp

lemon juice

(1 lemon)
Directions
Baked Avocado Egg Boats
is a simple and healthy breakfast or brunch idea. These avocados are filled with eggs then baked until the yolk reaches desired consistency, and last but not least, I sprinkle these boats with bacon bits and parsley. This is a really perfect dish that will impress your family members or friends.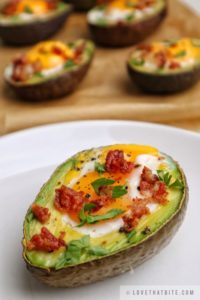 note :
Regular sized avocados don't hold a regular size egg, even with scooping a lot out, so to prevent the eggs spill out from the avocados. First, you have to separate the yolk from the whites. Place the yolk into each avocado then fill it up with egg whites.
Cut the bottom of avocado boats to help set straight on the baking pan.
(Visited 2,068 times, 1 visits today)
Steps
Remove the avocados from the oven, sprinkle with bacon bits and fresh chopped parsley.
Enjoy!